In the 90 day challenge you have two shakes a day, with two snacks followed by a simple dinner. We keep posting smoothie recipes, but you may be wondering – what do I do for the snack? Here are a few snack ideas.

I like to keep things simple- so I like just some simple Greek Yogurt for my snack in the office. They are easy to get a hold of, and fit the definition of a snack that can be obtained almost anywhere- low in calories, and protein based. Here are a few more for you.
Dehydrated Vegetables

My favorite are dehydrated vegetables. First because they taste amazing – second because they provide a lot of fiber, and the nutrients are not lost in the dehydration process.You can make your own dehydrated vegetables, with your own seasonings. Or many stores, like Whole Foods, Sprouts, and even Amazon has some packaged vegetables.
Pumpkin Seeds
Pumpkin seeds are high in protein, but also in fat and calories. It is easy to put handfuls of these in the mouth, so do yourself a favor- measure out 1/4 cup of pumpkin seeds in a shell, and make that your snack.  Why in a shell? Because if you work for it, you have less temptation to eat too many and too quickly.
Prosciutto and figs
This is a delicious snack, that puts some great ham with figs.  For the snack use 2 pieces of prosciutto to wrap 4  figs (154 calories).
Lunch Specials
The Subway Turkey wrap works for a great lunch between shakes. Be sure to check which wrap your local Subway has, some to have more calories
Another good lunch item is Wendy's SMALL chili
Popcorn as a snack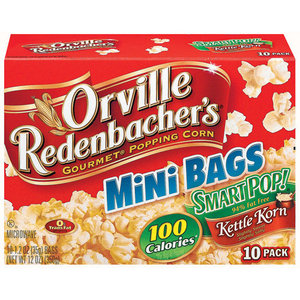 A great snack is the Orville Redenbacher's Smart Pop Kettle Korn. To this bag you can add Tabasco sauce (try it) – or my wife likes adding truffle flavored sea salt.
Visalus Cookies
The other favorite is the Visalus cookies – they come wrapped individually, have a great taste, and I use them when I travel on a plane. Some take the chocolate chip cookie and warm it up. If you have a lapband- you may find that some of these will not work as well.
 In case you haven't noticed, cottage cheese also comes in flavors.  This low calorie, high protein snack has both fruit flavors, as well as some savory flavors like Salsa.
Rice Cakes and Peanut Butter.
Rice cakes and peanut butter- you can do 3 rice cakes with 1 tablespoon or 2 rice cakes and add half a banana on the top — very Elvis like (well if Elvis was to stay thin).
Hummus
Hummus was what sustained nomads in the middle east. It contains all of the essential amino acids a person needs.  So for almost anyone it is a great source of protein. You can now get hummus that is portable in single-serving containers. Add this with a cup of vegetables instead of the high calorie ranch dressing. – 2 Tablespoons of hummus contains Calories 54, Fat 2.6 g, Protein 1.4 g, Carbohydrates 6 g, Fiber 1.6 grams
One apple (I like the honey crisp apples, only available seasonally) with 17 almonds makes a great snack.
The apple by itself is 95 Calories, Fat 0.3 g, Protein 0.5 g, Carbohydrate 25.1 g, Fiber 4.4 g.
Almonds are 118 calories, Fat 10.3 g, Protein 4.3 g, Carbohydrate 4g, Fiber 2.4 g
Total for the snack: 213 calories, Fat 10.6 g, Protein 4.8 g, Carbohydrate 29.1 g, Fiber 6.8 g
Edamame
This is one of my wife's favorite. She calls this the "french fry" substitute. It takes a little over one cup to make 1/2 cup of shelled edamame.  In case you were wondering, these are just a fancy name for soy beans. Crisp these in a microwave, or bake them.  ½ cup of edamame pods with sea salt to taste.  Calories 120, Fat 2.5 g, Protein 11 g, Carbohydate 13 g, Fiber 2.5 g
Deviled Eggs
Deviled eggs are a great high protein snack, and with these we use the flavors of paprika and mustard to add tang to it. Take two hard boiled eggs, and use the filling from one yolk. Mix with low-fat mayo, mustard, and paprika to taste. Calories 75 , fat 3 g, Protein 13 g, Carb 1
Kashi Go Lean Crunch Cereal
There are a few Kashi cereals out there, and some do not taste that great, so be sure to get the "crunch" not just the go-lean.  This is best if you mix it with something, so we recommend ½ cup of Kashi Go-Lean Crunch cereal mixed with 1 tablespoon of Dried Cranberries.
Ezekiel Bread
I had not heard of this bread until a very successful weight loss patient told me about it. This is the only bread that didn't bother her lap-band and it is pretty healthy for you too. For this simple snack, buy this bread  – tastes great then with one piece of Ezekiel bread toasted with 1 Tablespoon of natural peanut butter. Sounds like something I ate as a kid.
 Banana and peanut butter
Probably one of the simpler snacks, and for this I recommend real peanut butter. Not the stuff that is processed, but peanut butter that is made from all peanuts and nothing else.  Fort his snack take ½ Banana with 1 tablespoon of natural peanut butter. Sometimes a banana can get stuck in a band. So eat it slowly.
Sweet potato
Take one  medium sized sweet potato and bake it, then slice it and add  plain Greek yogurt sprinkled top with cinnamon . This snack  has 154 calories, Fat 0.1 g, Protein 19.2 g, Carbohydrate 19.4 g, and Fiber 2 g.
Egg Beaters
Sometimes just want to fry some eggs- the great thing is that egg beaters is the egg white and very little fat, but high in protein. A great snack, or a great meal.
Rice cakes
Ever see those mini-rice cakes. Think of them as a chip and you use that to dip into cottage cheese. 17 mini rice cakes with 1/2 cup of cottage cheese.
Those are a few of my suggestions– tell me what yours are – and include the nutritional information

About Dr Terry Simpson
Dr. Terry Simpson is a Phoenix weight loss surgeon. He encourages his lap-band surgery patients to learn to cook and adopt healthier lifestyles. His goal is to use culinary medicine to keep patients out of his operating room. www.drterrysimpson.com