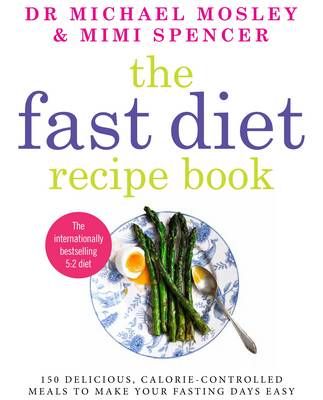 Anytime you put in the words "eat whatever you want," somewhere in a diet plan you will have a best seller. In this case The Fast Diet starts with that premise – for five days eat whatever you want, and for two days you "fast" – but not exactly, because you have 500 calories divided between breakfast and dinner if you are a woman, or 600 calories if you are a man.
The book, quite short, is packed with two kinds of references: testimonials from people you don't know, and a selection of scientific research that shows the benefit of fasting.

The recipes for the fasting days are simple, easy to follow, and look delicious.  They make them look better with some lovely photographs of them.
Does a Pattern of Eating/Fasting Work to Lose Weight?
The Science:
Almost any diet book that is read will have a group of scientific articles proving its point. They have become more sophisticated over the last 20 years as they will include research that has "insulin" and insulin-growth-factor. I shall save you the trouble and summarize the research for the following types of diets:
Fasting, Vegan, Vegetarian, Paleo, Mediterranean  Glycemic Index: all point to studies showing that insulin and the growth factor will decrease.  All will have studies showing that insulin and the growth factor are bad actors if there is too much of them (ask some poor worms).  All will show that they will decrease the chronic diseases of man from heart disease to cancer.
But I can do this:
Who doesn't want to hear a diet with the words "eat as much as you want." Pick one: the Atkins Diet was first to use this phrase — who doesn't want a lamb shank for dinner, a dozen eggs for breakfast – until you get tired of it. Or, if you like Dr. Ornish, who doesn't want unlimited lentil soup?
Eat what you want for five days, fast for two days (and it isn't really fasting). Who can't do that?
Theory:
By fasting you utilize fat.
Proof:
Personal testimonials
Prediction:
An amazing best seller in the United States. Next year my weight loss surgery patients will be saying, in addition to every diet that failed – this one will be on their list.
Try it?
Yes, try it for a while. See how it does for you and if you like it. The science behind it- well, what is working for a few people may not work for you. But if it does, comment.
Like all diets – every single one: it works by you eating less. Just regulates it a little bit better.
What Should I do?
It isn't worth the book price- you have the formula above- and if you have some favorite 500 or 600 calorie menu plans for the days you don't fast – well, you are off and running.
We will be posting some of those recipes and menu plans later. While there are some good plans out there- weight loss surgery provides a way to have better control over appetite than any diet ever has.
Still, for some of our pre-operative patients that must go on a physician supervised diet, this is a reasonable choice- especially if the 5 non-fasting days caloric intake is not above 2000 calories
But if you really want to loose weight– stop eating out, learn to cook and JUST COOK!

About Dr Terry Simpson
Dr. Terry Simpson is a Phoenix weight loss surgeon. He encourages his lap-band surgery patients to learn to cook and adopt healthier lifestyles. His goal is to use culinary medicine to keep patients out of his operating room. www.drterrysimpson.com